Are you thinking about creating a website for your business, but don't know where to start? It can be confusing trying to figure out which web designer to choose, and how much it will cost. In this post, we'll help you to find a local website designer that is reliable, understands your needs and knows how to communicate in English, not technical jargon. We'll also discuss some of the things you should consider before committing to any web design agency or freelance web designer. So let's get started!
First things to look for in all professional web designers
When you start researching local web designers you'll probably find there are far more web designers near you than you realised and it can be difficult to know where to start. It's a good idea to set some basic criteria to help you weed out any non-contenders.
Keep reading for a sneaky trick that you can use to check the quality of their work (even if you know nothing about websites)!
Here are 3 important criteria to set when picking a shortlist of potential website designers:
Does the designer have experience with projects like yours?
All good web designers should have a portfolio to showcase their work. Many will only select a handful of projects to display on their site, but there should be enough to help you get an idea of their style and what kind of work they're capable of.
Additionally, you should be looking at more than just the visual side of things. It's great to see a portfolio of beautiful websites but it's even better if you know that those sites are built to achieve the goals of the client. Does their portfolio offer case studies to show that they knew what the client needed and met those needs accordingly?
Do they use the latest web design technologies?
The best web designers should be up-to-date on the latest trends and technologies. This ensures that your website will be built using best practices and will be able to take advantage of new features as they become available.
Remember that sneaky trick we mentioned?
If you want to check the quality of the work aside from the actual design, one very important factor is speed. Website speed is important for a number of reasons (check this link for more info). It's also something that's not easy to achieve and difficult to fake. If your designer's own website scores well on page-speed tests then that's a good indicator that they're using the latest technologies, best practices, and know how to build a high-quality site ( not just one that looks good). Of course, this isn't the only important factor but it is a really good indicator of quality.
If this sounds complicated then don't worry. You can check this yourself in 1 minute or less. Here's how…
All you need to do is copy their website address from your browser's address bar…

And paste it into Google's free Page speed testing tool.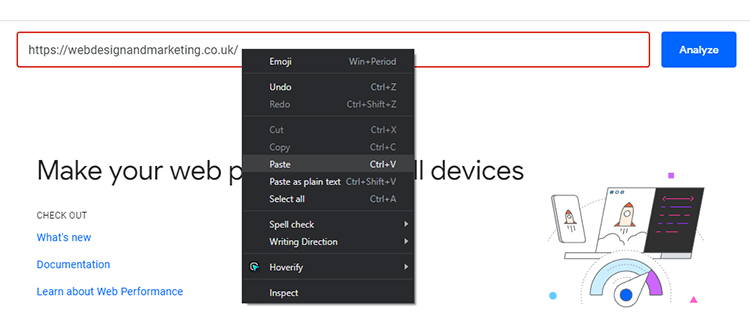 If the scores are showing green (90+) for mobile and desktop that's a great sign that the website developers have worked hard to ensure the site is well-built and loads efficiently.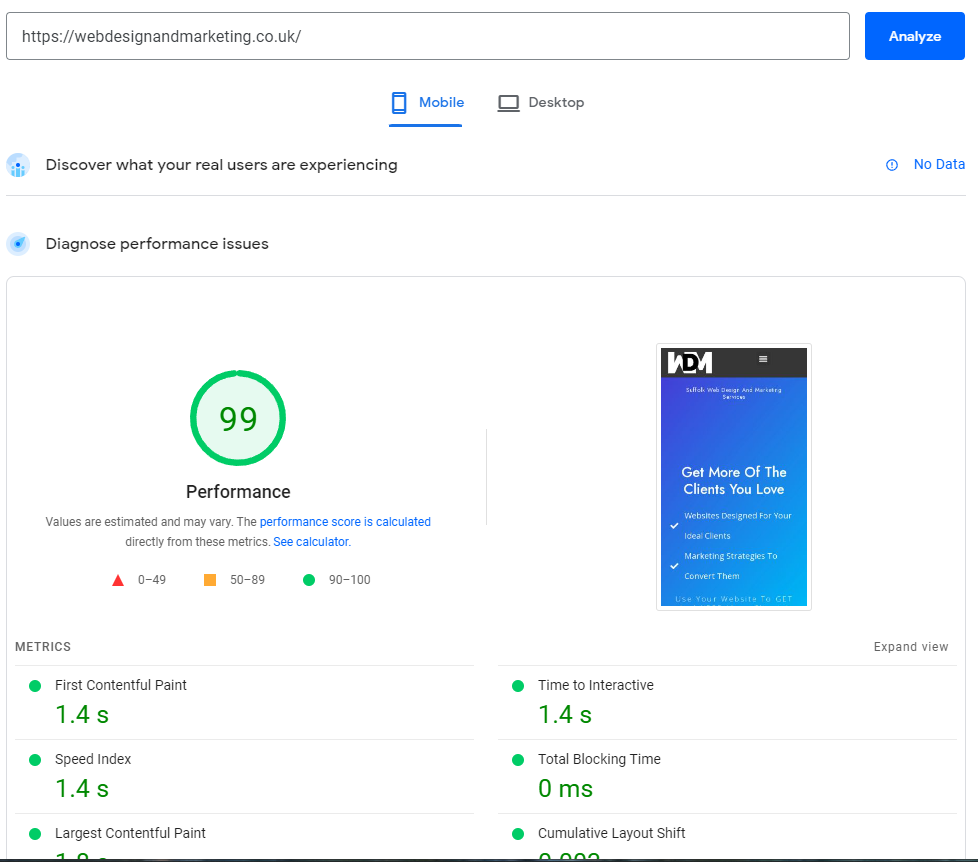 You could also check the speeds of sites in their portfolio but remember, the client (website owner) could have made changes or failed to maintain it correctly so this may be a little unfair.
Are they communicative and responsive?
There's nothing that can derail a project quicker and sour working relationships more than poor communication.
Great communication is especially important when working with someone on something as important as your website. After all, it could directly impact the success of your entire project.
How does your chosen design company like to communicate?
Is it just email (if so, what's their response time)?
Do they prefer you to pick up the phone?
Do you have to meet in person?
Can you have Zoom calls to discuss your project visually?
Last of all – Do they have a way for you to approve work or request changes easily (without having to spend ages explaining)? It can be tough to describe what your talking about when you have no visual reference. See if your chosen local designer uses tools like Markup (or similar) to enable this.
This really is important! Make sure you understand the designer's communication preferences and are comfortable with them before moving forward.
Do they have good reviews?
Ask around or check online to see what others have said about working with the designer. Look for red flags like missed deadlines or unresponsive customer service. By setting these criteria, you'll be better equipped to pick a local website designer that's the right fit for your project.
And of course, read reviews from past clients. to make sure they have excellent customer service and a track record of delivering high-quality websites.
What About Price?
Pricing in the website industry varies wildly. We've written numerous articles that cover this such as this one here: Web design cost UK. In short, this is not about getting the cheapest website you can. It should be about investing in something that brings a return on investment. However, we all have a budget to work with. If you're looking to invest £3-£5k and your local designer is offering to build your site for £250 then you're probably not aligned on expected outcomes. Similarly, if you have £500 to invest and their pricing starts at £2000 then you may need to look for a more affordable web designer.
What questions should THEY ASK YOU in your first meeting?
When meeting with a potential website designer, you should be prepared to answer a few key questions. First, the designer will need to know your budget. This can be awkward but it's best, to be honest and open about how much you're looking to invest. This will help them determine what kind of site they can create for you and what features may need to be scaled back or eliminated entirely.
Next, they'll want to know what type of site you're looking for. Are you interested in a simple landing page, or do you need a complex e-commerce site? They may ask you "why?" a number of times to drill down to precisely what your web design project will entail.
Once they have a general idea of your needs, they'll want to know more about your target audience. Who are you trying to reach with your website? What kind of tone and style would appeal to them? Do you need assistance setting up some customer avatars?
Will you be providing the images and copy for your website? Do you need to hire a copywriter? Do they need to source suitable stock images for you?
They should also give you the opportunity to discuss your goals and objectives for the website. Take some time with this. It's critical to be clear about your goal. You won't be able to measure and improve without it. It's all right to want "sales" to go up, but if you want "conversions" to rise by 20% within six months, you have a S.M.A.RT goal (Specific, Measureable, Achievable, Relevant, Time-Bound). This will help to ensure that the final design meets your needs and is specifically designed to fulfil your specific goals.
By asking these questions, the designer will be able to get a better sense of what you're looking for and whether they're the right fit for your project. Believe it or not, A good designer won't always want your business. Get ready for a blatant bit of self-promotion here:
At Suffolk Web Design And Marketing we only work with clients that we're confident we can really help. That's why we've never had a bad review and work with most of our clients on a long-term basis.
By asking these questions, you can gain a better understanding of what you want from your new website and make sure that it is designed to meet your specific needs.
You've received your website proposal – Now what?
After you've received your web design proposal, it's important to take some time to review it carefully. Your proposal should provide a detailed overview of the designer's plan for your website, including the features they intend to include, their proposed timeline, and their costs.
Your proposal should begin with a summary of the project, followed by a detailed explanation of the proposed solution. It should also outline the project timeline and milestones, as well as the fees for the designer's services.
Finally, it should include all relevant terms and conditions which set out the obligations from both sides. This may sound a little scary but they are designed to protect you as a client and your chosen website developer. Make sure that you understand all of the terms and conditions before accepting. If you have any questions, just ask your web designer for clarification.
Once you're happy with the proposal, you can sign it and return it to your web designer (with any upfront payment if required). This will give them the green light to begin work on your project. If you've chosen well and everything goes according to plan, you'll have a beautiful new website in the time stated and one that helps you achieve your goals and objectives!
How to work with your web designer
Set clear expectations from the beginning.
If you're not technically minded that's ok. But, be careful to make sure that there isn't a misunderstanding because of this.
An example of this might be…
You say that you're looking for a very simple website. In your web designer's mind that means something quite specific. But if that "simple" design actually requires 3-4 hours (or even 3-4 days) of custom development then you're both setting yourself up to fail.
Be clear and specific about the functionality you have in mind, and also be open to feedback from your designer so you know if it's possible within the scope of your project. Your designer may have a simpler, cheaper, and better solution.
Timing and Budget
Web designers are often very busy people, working on multiple projects at any one time. As such, it is important to be respectful of their time and to communicate in an organised and efficient manner. If you need to contact a web designer, try to do so during scheduled meetings or calls, as unplanned communication can slow down the design process. Similarly, if you are due to provide any files, images or content, stick to the agreed deadlines where possible. If you cannot meet a deadline, give as much notice as possible so that the web designer can make alternative arrangements. By respecting the time of web designers, you can help to ensure that your project runs smoothly and efficiently.
Help Your Website Designer Avoid Scope Creep
Make sure you've covered all your requirements (where possible) during your initial meeting(s). This will help to ensure that the proposal you receive is accurate and that the final cost reflects the work that's agreed upon. Of course, it's quite common for there to be some changes once the project gets underway – new ideas can come up, or the design brief may need to adjust slightly. However, if these changes are significant, it's important to remember that they can affect both the timeline and the cost of the project. This is known as scope creep, and it can easily ruin a great website. The best way to avoid this problem is to be firm with your goals and timeline, and agree on any additional work that needs to be done as part of a "Phase 2" project. This will help to keep the project on track and prevent any unexpected costs from creeping in.
Final thoughts
Local web designers can be a great asset when it comes to creating a new website. By finding a web design company with local designers, you will not only be helping to support your local economy but you'll also be getting a website that meets all your needs and, in many cases, a great long-term contact will be an asset to your business.
As with any important project, be clear and specific about your requirements, and make sure you understand the designer's proposal before signing anything. Respect the designer's time and be efficient in your communication. Finally, avoid scope creep by agreeing that any unforeseen work is planned in after launch.
Last of all. Know that things change over time. Your local web designer will know your site inside out. As your business evolves, use them to ensure that your website evolves with it and remains a vital tool for your business. Aside from website design services they may also offer digital marketing, website care and maintenance, or Search Engine Optimisation (SEO) services. Even if they don't, they probably have very good contacts who do!